Oscillating Saw Osteotomy
This illustration describes a surgical procedure to improve the alignment of the lower limb with one unique trans-tibial incision to complete the osteotomies (bone cuts) in both the tibia and fibula.
A. The location of the tibial osteotomy and oblique fibular osteotomy are identified.
B. The interosseus membrane and vasculature are identified in a cross section view.
C. The path of surgical dissection from the anterolateral surface of the tibia to the fibula are identified.
D., E. The dissection around the fibula is shown.
F. An oscillating saw is used to perform the fibular osteotomy. Saline solution is used to cool the blade and prevent thermal damage to the bone.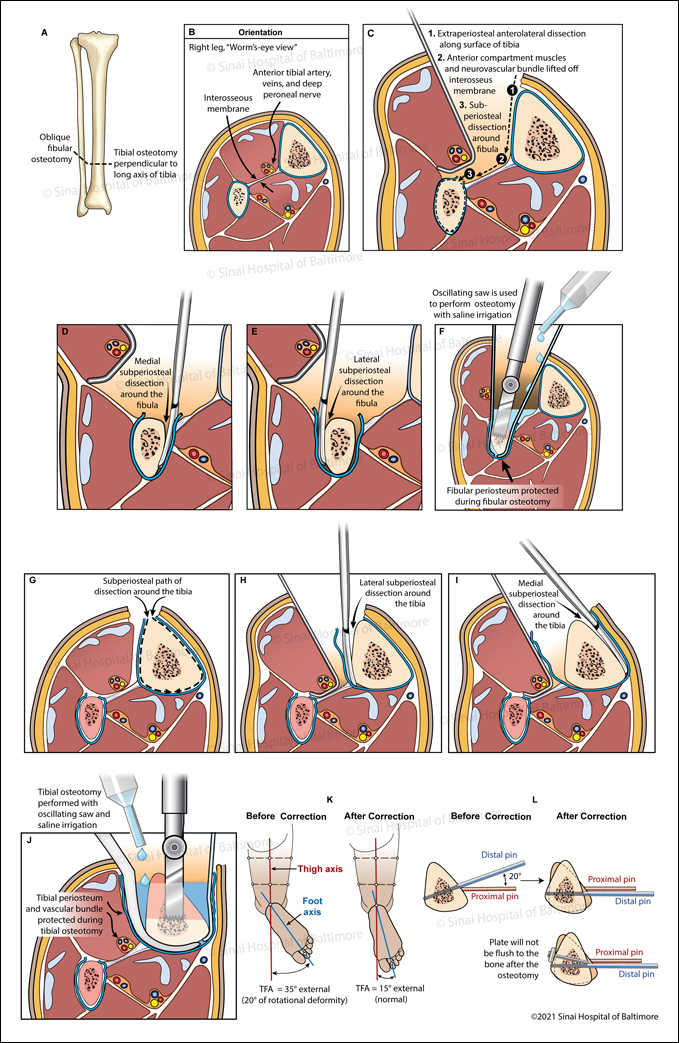 G., H., I. The path of dissection around the tibia is shown.
J. An oscillating saw is used to perform the tibial osteotomy. A retractor protects the periosteum and nearby vasculature.
K. The position of the axis of the foot in relation to the axis of the thigh is shown before and after surgery.
L. The position of fixation pins both above (proximal) and below (distal) the tibial osteotomy are shown before and after surgery. The plate that secures the tibia while the bone is healing is also identified.