Dr. Christopher Bibbo
Orthopedic Surgeon Specializing in Foot and Ankle Treatment, Foot and Ankle Sports Medicine, Plastic Reconstructive & Microsurgery, Orthopedic Trauma and Musculoskeletal Infections
Christopher Bibbo, DO, FACS, FAAOS, is a board-certified orthopedic surgeon who serves as Head of Foot and Ankle Surgery and the Assistant Director of the Foot and Ankle Deformity Correction and Orthoplastics Fellowship at the International Center for Limb Lengthening. Dr. Bibbo has over twenty years of dedicated, world-renowned clinical treatment for patients throughout the United States and the international community.
Dr. Bibbo's background is unique; he has two medical degrees: a Doctorate of Osteopathic Medicine from the U.M.D.N.J./Rowan University School of Osteopathic Medicine and a Doctorate of Podiatric Medicine from Temple University. Dr. Bibbo completed his Orthopedic Surgery residency at New Jersey Medical School (Rutgers New Jersey Medical School), followed by a Foot and Ankle Fellowship at the Miller Orthopaedic Clinic/OrthoCarolina in Charlotte, North Carolina. Dr. Bibbo completed a second fellowship in Reconstructive Plastic & Microsurgery at the University of Pennsylvania. Dr. Bibbo's dual medical degrees and eight years of post-graduate medical and surgical specialty training in orthopedic surgery, plastic reconstructive & microsurgery, and foot & ankle surgery. This extensive training provides patients with a full spectrum of treatment options.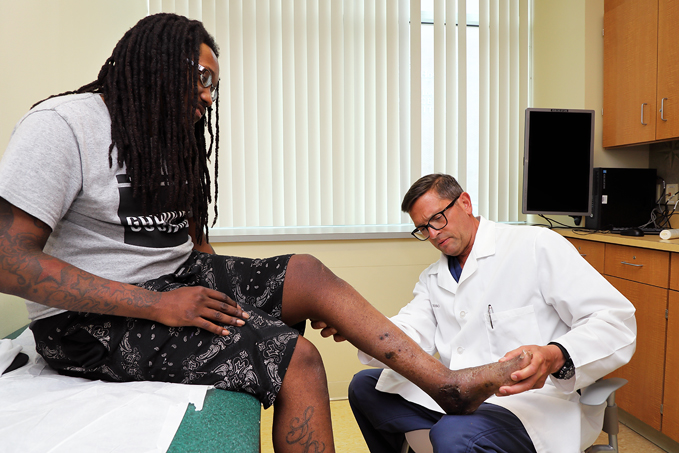 Dr. Bibbo is also a highly respected researcher with over 100 publications and book chapters. He also serves as a reviewer and is on the editorial boards of numerous medical journals. Dr. Bibbo is an active member of the American Academy of Orthopaedic Surgeons (AAOS), the American Orthopaedic Foot & Ankle Society (AOFAS), the World Society for Reconstructive Microsurgery, the Musculoskeletal Infection Society (MSIS) and the American College of Foot and Ankle Surgeons (ACFAS).
Dr. Bibbo's Specialties
Elective Foot and Ankle Surgery

Foot and Ankle Sports Medicine

Plastic Reconstructive & Microsurgery (Limb, Trunk, Pelvis & Hips)

Routine and Complex Peripheral Nerve Reconstruction

Peripheral Nerve Injury Surgery

Charcot

Orthopedic Foot & Ankle Surgery and Deformity Correction

Complex Lower Limb, Foot and Ankle Reconstruction

Total Ankle Replacement (Ankle Joint Replacement)

Limb Salvage

Amputations, Revision Amputations

Targeted Muscle Reinnervation for Amputation Pain

Amputation-Related Nerve Pain Surgery

Lengthening of Amputations
Contact Information
Locations
Telemedicine video visits are also available.
Published Research Articles
Click here to see a list of Dr. Bibbo's peer-reviewed research articles.
Patient Stories
Click here to see stories about Dr. Bibbo's patients.
Resources