Dr. Michael Assayag
Orthopedic Surgeon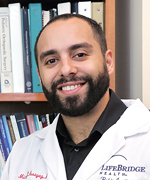 Michael J. Assayag, M.D., F.R.C.S.C., is a board-certified orthopedic surgeon specializing in adult limb lengthening and deformity surgery, bow leg, knock-knee and rotational deformity correction. He performs pediatric and adult limb lengthening, limb reconstruction and foot and ankle procedures. He also treats traumatic injuries and bone and joint infections.
He earned his medical degree at Laval University in Quebec City, Canada, and completed his orthopedic surgery residency training there as well. He received fellowship specialty training in pediatric and adult limb lengthening and deformity correction here at the International Center for Limb Lengthening. Most recently, Dr. Assayag completed additional fellowship specialty training in adult foot and ankle and limb reconstruction at the Hospital for Special Surgery in New York. He is a Fellow of the prestigious Royal College of Surgeons of Canada.
Dr. Assayag is a member of several orthopedic associations and volunteers on Team Sinai for surgical missions in Haiti. Born and raised in Quebec City in Canada, he takes pride in his French Canadian heritage and is fluent in French. In his spare time, Dr. Assayag can be found at a CrossFit gym or reading a book under a tree in a park.
Dr. Assayag sees patients at Sinai Hospital of Baltimore and at LifeBridge Health at Foundry Row in Owings Mills.
Conditions Treated by Dr. Assayag
Pediatric and Adult Limb Lengthening:

Congenital and Developmental

Post-Traumatic

Post-Infectious

Post-Arthroplasty

Constitutional Short Stature (Cosmetic Stature Lengthening)

Limb Reconstruction:

Ilizarov Reconstruction Surgery

Knock Knees (Genu Valgum)

Bow Legs (Genu Varum)

In-toeing and Out-toeing (Tibial and Femoral Torsion)

Knee Contractures

Hip and Knee Replacement

Nonunions

Malunions

Foot and Ankle:

Ankle Arthritis

Ankle Distraction Arthroplasty

Joint Contractures

Bunions

Tendon Transfers

Bone Infection (Osteomyelitis)

Bone Defects

Pediatric and Adult Trauma Surgery
Contact Information
Published Research Articles
Click here to see a list of Dr. Assayag's peer-reviewed research articles.
Patient Stories
Click here to see stories about Dr. Assayag's patients.
Resources