Virtual Doctor Visits: Telemedicine
The Rubin Institute for Advanced Orthopedics Has
"Virtual Doctor Visits" Available!
During these challenging times, the Rubin Institute for Advanced Orthopedics (RIAO) is pleased to offer "Virtual Doctor Visits" by video or phone from the safety and comfort of your home. More of our RIAO doctors at the International Center for Limb Lengthening will be available through this new technology every day. Please call 410-601-BONE (2663) and ask to make a "Virtual Doctor Visit." It's simple to do!
Dr. John Herzenberg was featured in this WBAL-TV 11 News story on how telemedicine is helping the Rubin Institute to continue to serve patients who do not want to leave the safety of their own homes during the Coronavirus pandemic: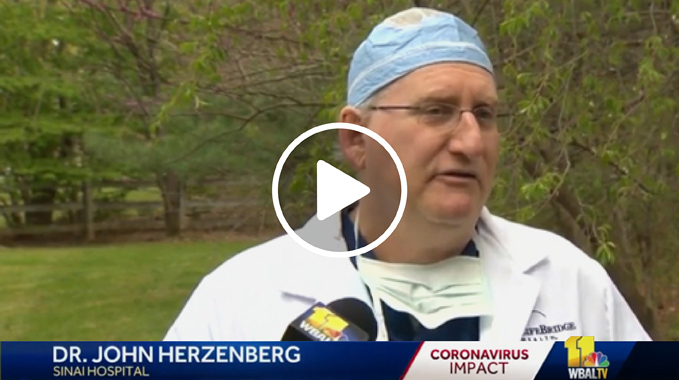 What is telemedicine?
Telemedicine is a convenient, live, HIPAA-compliant, face-to-face videoconference appointment between a patient and a doctor. This "Virtual Doctor Visit" is offered as an alternative to outpatient office visits. Patients participate in the videoconference using a computer, tablet, or smartphone with internet access. (If patients do not have access to this technology, remote visits via telephone, email or text can be arranged.)
Who are good candidates to utilize this orthopedic
telemedicine service?
Patients who:
do not want to leave the safety or comfort of their own homes,

want to save travel time to and from the office as well as wait time in the doctor office,

who have transportation issues or want to save on travel costs (e.g., gas, parking, bus, taxi, etc.),

have childcare issues or cannot take time off to visit the doctor, and/or

do not require an extensive examination; a limited visual exam may be performed via the live video visit.
What type of appointments are ideal for "Virtual Doctor Visits?"
Post-operative check-ups that do not require the removal of skin staples or sutures

Review of diagnostic tests that were ordered and completed (e.g., MRI scan, X-rays, etc.)

Consultations when travel to the doctor's office is difficult for any reason (e.g., COVID-19 safety concerns, bad weather, lack of transportation resources, medical limitations, etc.)

Acute injuries when a patient may not be sure if an in-person visit is necessary or if X-rays are needed.
How do "Virtual Doctor Visits" work?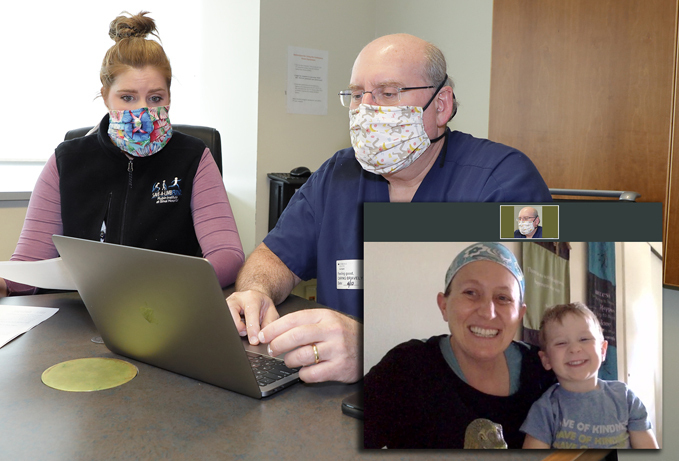 Appointments are scheduled the same way in-office visits are scheduled. Just call 410-601-BONE (2663) but ask to schedule a "Virtual Doctor Visit" with your doctor. Your appointment scheduler will ask a few questions to determine if you would like a teleconference visit, or if you will instead consult remotely with the doctor via telephone, text, or email. All of our Rubin Institute for Advanced Orthopedics doctors are being trained to use this new technology, so there may be a slight delay until your doctor has virtual doctor visits available.

Please note that you will be responsible for any deductible payments or copayments as required by your insurance carrier.

You will be given a specific appointment date and time.

If you will be having a videoconference appointment, you will receive an email and/or a text with a link to download the free Zoom videoconferencing software for your computer or app for your tablet or smartphone.

You will receive a reminder email and/or text prior to your scheduled appointment.

You will click the link that you were sent via email or text when it is time for your appointment, and then you will be logged into a virtual "waiting room." Your doctor will then connect with you via his or her computer to conduct the face-to-face virtual consultation on your computer, tablet or smartphone.

The conversation between you and your doctor will be the same type of conversation that you would have in a typical in-office face-to-face visit.

Your doctor will be able to perform a limited physical assessment, such as looking at an incision or watching the range-of-motion of a joint. He or she may ask you to push on an area of concern (such as a swollen knee) to see if it is tender. Your doctor will also be able to "screen share" with you and show you X-rays and MRI scans, if necessary.

Your doctor will let you know if an in-person visit is necessary based on the doctor's assessment during the videoconference. He or she will be able to prescribe medications electronically that will be sent directly to your pharmacy. Other prescriptions (e.g., physical therapy, consultation referrals, etc.) can be sent to you electronically via the LifeBridge Health Patient Portal.
Dr. Ronald Delanois, the Jerome P. Reichmister, M.D., Endowed Chairman of Orthopedics at the Rubin Institute, is interviewed in this WJZ-TV CBS Baltimore news story on what telemedicine is, what to expect from a visit, and how telemedicine helps to meet different patients' needs. He also explains how the Rubin Institute is now open and safe for patients to come for in-person visits and elective procedures.