Baltimore Limb Deformity Course
We are excited to have reinvented the Baltimore Limb Deformity Course (BLDC) to an online, virtual BLDC in 2020. This format provided our registrants and industry partners an exciting, safe, and convenient web-based platform to learn, exchange ideas, and showcase important developments in the orthopedic subspecialty of limb lengthening deformity correction. The 2020 BLDC was an intensive, educational experience that allowed 320 attendees from 43 countries and 29 U.S. states to learn from internationally renowned surgeons.
We developed a syllabus that included over 25 hours of pre-recorded planning and deformity correction talks/workshops and hardware application videos, in addition to 7 hours of live, interactive sessions for Q&A and case discussions. Our faculty lectured on topics such as assessing limb alignment, planning deformity correction, and correcting limb deformities with internal and external devices. Basic and advanced limb reconstruction concepts and surgical procedures were also presented. The virtual course enabled surgeons to view the content on their own time and at their own pace.
We thank our corporate sponsors, faculty, Academic and Research Services Department, and volunteers for making this Course possible.
Join us August 4 – 8, 2021 for the 31st Annual Baltimore Limb Deformity Course! We are planning on returning to our in-person event in Baltimore, Maryland. Please continue to check this webpage for the latest information about the 2021 Course.
Course Materials Order Form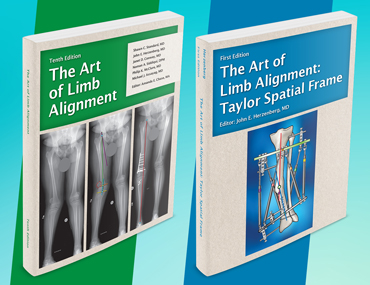 Click here to download an order form if you are interested in purchasing DVDs, USBs, or other course materials. To purchase our textbooks, please visit Amazon.com by clicking on the links below:
Contact Information
Please contact Madeline Bacon with any questions about the Baltimore Limb Deformity Course.
Phone: +1.410.601.9798
Fax: +1.410.601.0585
E-mail: mbacon@lifebridgehealth.org
Mailing Address:
Madeline Bacon
Baltimore Limb Deformity Course
Rubin Institute for Advanced Orthopedics
Sinai Hospital of Baltimore
2401 West Belvedere Avenue
Baltimore, Maryland 21215, USA
What Participants Are Saying About the 2020 Course
"Please convey also my congratulations to all the Faculty members as well as to the Scientific and Administrative staff for their exceptional performance. I took the course back in 2014 and I have to say that the online one this year really impressed me. This is why your Clinic sets the benchmark in many disciplines in Orthopaedic Surgery. The only thing that was missing were the cadaver labs and the person to person discussions."


from a physician in Greece

"Congratulations to your entire team for successfully conducting one of the best online conferences of the year. It has truly been an amazing learning experience."


from a physician in India

"I have reached session 3, and I found it amazing. You have done a wonderful job."


from a physician in Kenya

"I just finished watching the course presentations. This was a fantastic opportunity to attend the course despite the craziness of 2020. I would like to thank the team for the effort made to bring this course into life online."


from a physician in Syria
"I have not missed even a single lecture. You all did a great job in organizing such a wonderful virtual course, which was at least as good as the in-person past courses."


from a physician in Israel

"Nice session, well organized. Great teamwork."


from a physician in India

"May I extend my congratulations to the team on a great meeting effort for the course this year. Again you excelled and showed why it remains the gold standard around the world."


from a physician in the United Kingdom

"Great job this weekend! … The program and presentations were wonderful. The results showed the effort. Hats off to you guys!"


from a physician in the United States
"Thank you very much to your amazing team for a most impressive virtual BLDC this year … perhaps not the 30th birthday party you had always envisioned, but quite an impressive offering! A hearty congratulations, and thank you again!"


from a physician in the United States

"Thank you for the countless hours and so much hard work to make a great virtual meeting take place!! Hoping to see you in Baltimore next year!"


from a physician in the United States

"I am so happy I signed up for your course this year. It is so well done and has helped me understand some of the nicer points. I'm impressed at how this particular field has grown since my residency. This is the fourth time I've taken the course since I was a third-year resident, which was around 1991. Everything is just done in such a beautiful fashion. So well calculated. I'm itching to do more of this type of work. I just wanted to commend you on a wonderful course."


from a physician in the United States
2020 Course Sponsors
The 2020 Baltimore Limb Deformity Course was made possible through the generous educational support of:
Diamond Level:
Platinum Level:
Gold Level:
Silver Level:
Bronze Level:
The 2020 Baltimore Limb Deformity Course was made possible through generous in-kind support (durable equipment and disposable supplies) from:
We would like to thank the following for their generous support of 15 resident/fellow scholarship grants for the 2020 Baltimore Limb Deformity Course: