Baltimore Limb Deformity Course
Join us August 4 – 8, 2021 for the 31st Annual Baltimore Limb Deformity Course! We are planning on returning to our in-person event in Baltimore, Maryland. Please continue to check this webpage for the latest information about the event.
Registration details with pre- and post-Course offerings coming soon!
Below are links to the course venue, travel options, and contact information.
31st Annual Baltimore Limb Deformity Course
Dates: Thursday, August 5, through Saturday, August 7, 2021
Chairmen: John Herzenberg, MD, and Philip McClure, MD
Directors: Michael Assayag, MD, Christopher Bibbo, DO, Janet Conway, MD, Noman Siddiqui, DPM, and Shawn Standard, MD

Basic and advanced limb reconstruction concepts:

Limb alignment

Limb lengthening

Corrective osteotomies

Internal and external fixation

Intended for orthopedic surgeons, podiatrists, and allied health professionals who treat lower extremity deformities. No prior experience required.

The 2019 in-person Course was attended by 275 physicians from 36 foreign countries and 33 U.S. states.

The 2020 virtual Course attracted 320 attendees from 43 countries and 29

U.S. states.

Highlights of the 2021 course will include:

Hands-on sawbone labs

Interactive adult, pediatric, and foot participant case presentations

Internationally renowned faculty

Option to choose a lab group that focuses on adult orthopedics, pediatric orthopedics, or foot/ankle applications (group assignments based on early registration)

Option to choose break-out sessions on adult, pediatric, and foot/ankle topics

Newest edition of The Art of Limb Alignment textbook

Advanced access to the virtual Course content (an option to enroll only in the virtual Course will be available).

Innovative apps:

Multiplier: This free app predicts values at maturity (upper and lower limb length discrepancy, bone length, lower extremity length, height, and epiphysiodesis timing)
Bone Ninja: This iPad app teaching tool was developed by Drs. Standard and Herzenberg at the International Center for Limb Lengthening, Sinai Hospital of Baltimore. The Bone Ninja is designed to help surgeons analyze deformities. Note: Please bring your iPad. If you do not own an iPad, you will be able to rent one for three days (advanced reservation required). All registrants of the three-day Baltimore Limb Deformity Course will receive a registration fee discount that they can apply to the purchase of the Bone Ninja app.
Hotel Information
The course venue is the Four Seasons Hotel (200 International Drive) in the heart of Baltimore's Inner Harbor. The chic hotel is located 20 minutes from Baltimore-Washington International Airport (BWI) and 90 minutes from Washington Dulles International Airport (IAD). The discounted per-room fee for course attendees is $224 per night (plus taxes). The room rate includes complimentary basic guestroom Internet connectivity. Stay tuned for details on making your hotel reservation.
Getting to our Course
There is limited shuttle service available. The least expensive method of travel between any of the Baltimore-Washington airports (BWI, DCA, IAD) is via Uber or Lyft.
*actual pricing may vary based on time of day
Course Materials Order Form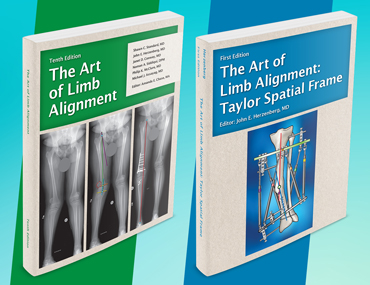 Click here to download an order form if you are interested in purchasing DVDs, USBs, or other course materials. To purchase our textbooks, please visit Amazon.com by clicking on the links below:
Contact Information
Please contact Madeline Bacon with any questions about the Baltimore Limb Deformity Course.
Phone: +1.410.601.9798
Fax: +1.410.601.0585
E-mail: mbacon@lifebridgehealth.org
Mailing Address:
Madeline Bacon
Baltimore Limb Deformity Course
Rubin Institute for Advanced Orthopedics
Sinai Hospital of Baltimore
2401 West Belvedere Avenue
Baltimore, Maryland 21215, USA
American Disabilities Act
If you require special accommodations to attend or to participate, please fax (1.410.601.0585) notification of your needs at least 30 days in advance of your arrival.
Disclosure Policy
It is the policy of Sinai Hospital of Baltimore, a LifeBridge Health Center, to comply with the Accreditation Council for Continuing Medical Education (ACCME) Standards for Commercial Support of Continuing Medical Education. All faculty participating in sponsored or jointly sponsored programs by Sinai Hospital of Baltimore are required to disclose to the program audience any real or apparent conflict(s) of interest related to the content of their presentation(s). In accordance with the ACCME requirements on disclosure information, relationships of presenters with commercial interests (if any) will be included in materials distributed at the time of the Course.
What Participants Have Said About the 2020 Course
"Please convey also my congratulations to all the Faculty members as well as to the Scientific and Administrative staff for their exceptional performance. I took the course back in 2014 and I have to say that the online one this year really impressed me. This is why your Clinic sets the benchmark in many disciplines in Orthopaedic Surgery. The only thing that was missing were the cadaver labs and the person to person discussions."


from a physician in Greece

"Congratulations to your entire team for successfully conducting one of the best online conferences of the year. It has truly been an amazing learning experience."


from a physician in India

"I have reached session 3, and I found it amazing. You have done a wonderful job."


from a physician in Kenya

"I just finished watching the course presentations. This was a fantastic opportunity to attend the course despite the craziness of 2020. I would like to thank the team for the effort made to bring this course into life online."


from a physician in Syria
"I have not missed even a single lecture. You all did a great job in organizing such a wonderful virtual course, which was at least as good as the in-person past courses."


from a physician in Israel

"Nice session, well organized. Great teamwork."


from a physician in India

"May I extend my congratulations to the team on a great meeting effort for the course this year. Again you excelled and showed why it remains the gold standard around the world."


from a physician in the United Kingdom

"Great job this weekend! … The program and presentations were wonderful. The results showed the effort. Hats off to you guys!"


from a physician in the United States
"Thank you very much to your amazing team for a most impressive virtual BLDC this year … perhaps not the 30th birthday party you had always envisioned, but quite an impressive offering! A hearty congratulations, and thank you again!"
from a physician in the United States

"Thank you for the countless hours and so much hard work to make a great virtual meeting take place!! Hoping to see you in Baltimore next year!"


from a physician in the United States

"I am so happy I signed up for your course this year. It is so well done and has helped me understand some of the nicer points. I'm impressed at how this particular field has grown since my residency. This is the fourth time I've taken the course since I was a third-year resident, which was around 1991. Everything is just done in such a beautiful fashion. So well calculated. I'm itching to do more of this type of work. I just wanted to commend you on a wonderful course."


from a physician in the United States
2020 Course Sponsors
The 2020 Virtual Course was made possible through educational grant and in-kind equipment support from:
Diamond Level:
Platinum Level:
Gold Level:
Silver Level:
Bronze Level: