Baltimore Limb Deformity Course

2023 Baltimore Limb Deformity Course (BLDC):
August 23-27, 2023, Baltimore Maryland
 Wednesday, August 23: Pre-Courses
Cadaver Lab: Tibia and Foot
Cadaver Lab: Complex Pediatric Hip/Pelvis/Femur Surgery
Thursday, August 24–Saturday, August 26:
Three-Day BLDC with Pediatric/Post-traumatic Deformity/Foot and Ankle Break-out Sessions
Sunday, August 27: Post-Courses
Charcot Foot and Ankle
Clubfoot Treatment: Ponseti and Beyond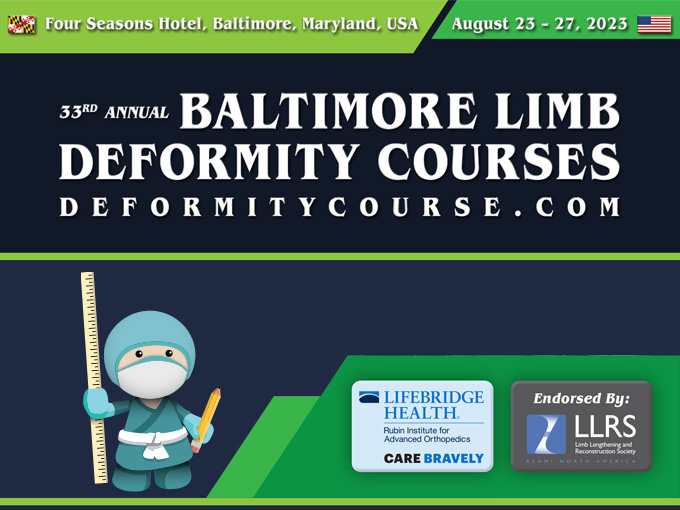 You can register online by clicking here to go to our online registration page. If you encounter any difficulty or errors when attempting to enroll, please contact mbacon@lifebridgehealth.org.
If you prefer to register by fax or mail, you can click here and print out the registration form and send the completed form to the fax number or to the mailing address that is listed on the form. If you are not using your own personal credit card to charge the fees, please complete and return the Third Party Credit Card Authorization Form so that we have a valid signature on file.
Register Now!
This course is intended for orthopedic surgeons, podiatrists, and allied health professionals who treat lower extremity deformities. No prior experience required. The course features lectures, deformity planning sessions, innovative apps, case presentations from experts, and an internationally renowned faculty. We will introduce basic and advanced limb reconstruction concepts including limb alignment, limb lengthening, corrective osteotomies, and internal and external fixation.
The 2022 Course was attended by over 200 clinicians from 29 foreign countries and 30 U.S. states.
Please see below links for more information about our 2023 courses, course venue, travel options, and contact information.
Course Objectives

Introduce basic and advanced concepts in limb alignment, corrective osteotomies, and internal and external fixation for limb reconstruction, including lengthening and realignment. Topics to be covered:

Single-level and double-level tibial and femoral deformities

Sagittal and oblique plane deformities

Rotational deformities

Foot and ankle deformities

Monolateral/circular external fixation

Acute correction techniques

Gait implications for angular and rotational deformities

Measurement of deformity on digital radiographs

Consequences of joint malorientation and malalignment

Limb lengthening techniques

Following completion of this event, participants will be able to:

Describe simple and complex lower limb deformities in pediatric and adult patients

Interpret advances in the field of limb reconstruction and deformity correction

Identify the optimal location of osteotomies

Recognize the methodology of minimally invasive internal and external fixation

Analyze deformities of the lower limb using electronic media technology

Formulate treatment decisions designed to yield better clinical outcomes

Baltimore Limb Deformity Course

Thursday, August 25 – Saturday, August 27, 2022
Chairmen: Philip McClure, MD and John Herzenberg, MD
Directors: Michael Assayag, MD, Christopher Bibbo, DO, Janet Conway, MD, Noman Siddiqui, DPM, and Shawn Standard, MD
Registration Fee: $1,275–$1,695

Highlights of the 2023 course will include:

Internationally renowned faculty

Hands-on sawbone labs

Option to choose a lab group that focuses on adult orthopedics, pediatric orthopedics, or foot/ankle applications (group assignments based on early registration)

Option to choose break-out sessions on post-traumatic deformity, pediatric, and foot/ankle topics

Case presentations from experts in adult post-traumatic, pediatric, and foot/ankle deformities

Receive the newest hard copy edition of The Art of Limb Alignment prior to being sold on Amazon.

Innovative apps:

Multiplier: This free app predicts values at maturity (upper and lower limb length discrepancy, bone length, lower extremity length, height, and timing of epiphysiodesis)
Bone Ninja: This iPad app teaching tool was developed by Drs. Standard and Herzenberg at the International Center for Limb Lengthening, Sinai Hospital of Baltimore. The Bone Ninja is designed to help surgeons analyze deformities. Note: Please bring your iPad. If you do not own an iPad, you will be able to rent one for three days (advanced reservation and cash deposit at pick-up required). All registrants of the three-day Baltimore Limb Deformity Course will receive a registration fee discount that can be applied to the purchase of the Bone Ninja app.

Pre-Course | Cadaver Lab: Complex Pediatric Hip/Pelvis/Femur Surgery

Date: Wednesday, August 23, 2023 This event is currently filled; we are accepting names for the wait list.
Course Times: 8:20 a.m. – 5:50 p.m. (bus promptly departs Hotel at 7:30 a.m.*)
Directors: Shawn Standard, MD
Registration Fee: $1,425


Bus transportation to the anatomy lab will be provided from the Four Seasons Baltimore Hotel. We have made arrangements for the bus to depart the Hotel promptly at 7:30 a.m.; it will return at the conclusion of the Pre-Course. If you are not aboard the bus by the designated departure times, you will be left to find and pay for your own transportation to/from the lab. It is your responsibility to check the syllabus periodically for any updates as the schedule could change without notice. Anatomy lab location: Sinai Hospital of Baltimore, 2401 W Belvedere Ave, Baltimore, Maryland 21215.

This Course will provide both didactic and hands-on learning about advanced techniques in the treatment of complex pediatric hip, pelvis, and femur conditions

The didactic session will provide basic science and technical points of view on the latest operative treatments for such problematic conditions as coxa magna, coxa breva, and severe acetabular dysplasia

A practical approach to treatments will be discussed along with surgical tips and tricks


The hands-on portion of the Course will teach advanced surgical techniques which include surgical hip dislocation; ligamentum teres reconstruction; distal femoral, periacetabular, and Morscher osteotomies; and hip distraction with external fixation

The hands-on portion of the Course will include 5 stations with 4 studies per station max

Learning objectives:

Employ a practical approach to identifying the non-operative, minimally invasive, and aggressive treatment techniques for complex pediatric hip, pelvis, and femur conditions
Recognize risk stratification of patients to enable proper choice of treatment options
Practice hip/pelvis/femur surgical techniques with guidance from leaders in this field

*Please consult this web page for the most current syllabus as schedule could change without notice.

Pre-Course | Cadaver Lab: Tibia and Foot

Date: Wednesday, August 23, 2023 Limited registration
Course Times: 8:00 a.m. – 4:30 p.m. (bus promptly departs Hotel at 7:00 a.m.*)
Directors: Noman Siddiqui, DPM, Michael Assayag, MD and Beat Hintermann, MD
Registration Fee: $1,325


Bus transportation to the anatomy lab will be provided from the Four Seasons Baltimore Hotel. We have made arrangements for the bus to depart the Hotel promptly at 7:00 a.m.; it will return at the conclusion of the Pre-Course. If you are not aboard the bus by the designated departure times, you will be left to find and pay for your own transportation to/from the lab. It is your responsibility to check the syllabus periodically for any updates as the schedule could change without notice. Anatomy lab location: Axis Research and Technologies, 6630 Eli Whitney Drive, Suite E, Columbia, Maryland 21046.

Deformity correction applications for the foot and ankle

Percutaneous anterior compartment prophylactic fasciotomy

Baumann, Vulpius, and Strayer procedures for gastrocnemius-soleus recession

Peroneal nerve and tarsal tunnel decompressions

Posterior, medial, and lateral approaches for tendon transfers and for ankle and hindfoot reconstruction

Application of circular external fixation to the foot and ankle

Afternoon lab selection: Bone transport procedure for limb salvage, or total ankle replacement to restore range of motion

The hands-on portion of the Course will include 5 stations with 3 studies per station max

Learning objectives:

Complete percutaneous anterior compartment prophylactic fasciotomy
Apply three types of gastrocnemius-soleus recession procedures
Demonstrate posterior, medial, and lateral tibial tendon transfers and recognize the indications for use of each technique
Identify safe zones for wire and pin placement in the application of circular external fixation to the ankle and the foot
Analyze indications for bone transport procedures, or practice total ankle arthroplasty surgery

*Please consult this web page for the most current syllabus as schedule could change without notice.

Post-Course | Charcot Foot and Ankle

Date: Sunday, August 27, 2023
Course Times: 7:15 a.m. – 4:00 p.m.
Directors: Noman Siddiqui, DPM and Sara Mateen, DPM
Registration Fee: $425–$495

This Course is designed for musculoskeletal specialists, orthopedic surgeons, and podiatric surgeons. The focus is on describing and demonstrating surgical management for Charcot foot and ankle with internal and external fixation. Participants will employ advanced fixation methods and identify the appropriate application of the various techniques for the treatment of Charcot foot with both acute and gradual correction. Participants will also identify complications such as revision, review infection work-up, and incorporate minimally invasive techniques.

Learning objectives:

Diagnose neuropathic disease and its orthopedic presentation in the midfoot, hindfoot, and ankle

Utilize current surgical methods with open or minimally invasive techniques for correction in the midfoot, hindfoot, and ankle


Comprehend the application of external fixation for neuropathic conditions and how to apply both acute and gradual correction techniques

Distinguish how to stabilize bones of the midfoot, hindfoot, ankle, and lower leg with orthopedic hardware for Charcot collapse


Identify surgical complications associated with Charcot foot and ankle and apply medical and surgical techniques for management

Incorporate minimally invasive techniques for managing Charcot foot and ankle

Post-Course | Clubfoot Treatment: Ponseti and Beyond

Date: Sunday, August 27, 2023
Course Times: 7:15 a.m. – 4:00 p.m.
Directors: John Herzenberg, MD and Philip McClure, MD
Registration Fee: $425–$495

Approximately 130,000 infants with congenital clubfoot are born worldwide each year. The goal of this Course is to review where we stand 20+ years into the gradual acceptance and adoption of the Ponseti method as an effective, inexpensive treatment. Performing extensive surgery to treat clubfoot often leads to poor results. The late Dr. Ignacio Ponseti determined that idiopathic clubfoot in an otherwise normal child can be corrected in less than three months by performing manipulations and casting. Minimal or no surgery is required. At long-term follow-up, feet treated by the Ponseti method tend to be strong, flexible, and free of pain. Newer applications will also be covered for teratologic and atypical feet. This Course will include lectures, hands-on workshops, and discussions.

Learning objectives:

Describe the pathophysiologic reasons why the Ponseti method works

Become proficient in the application of the Ponseti method

Recognize relapses after conservative clubfoot management


Apply surgical techniques to rescue relapse, including casting, anterior tibialis transfer, and open release

Your Safety is Our Priority:

We will follow safety guidance issued by local public health authorities to provide an environment as safe as possible.

Hotel Information

The course venue is the Four Seasons Hotel (200 International Drive) in the heart of Baltimore's Inner Harbor. The chic hotel is located 20 minutes from Baltimore-Washington International Airport (BWI) and 90 minutes from Washington Dulles International Airport (IAD).

The discounted per-room fee for Course attendees is $233 per night (plus taxes). The room rate includes complimentary basic guestroom internet connectivity. It is highly recommended that you make your reservations early. The discounted rate is offered on a space-available basis through Monday, July 31, 2023.

To make a reservation, either:

Select "Check Rates"
Enter check-in and check-out dates
Update number of adults and children
Add promo code: 230819SIN
Click "Find Rooms"

-or-

Call the hotel directly (+1.410.576.5800)
Ask for in-house reservations
Request the "Baltimore Limb Deformity Course" group block rate

-or-

The Four Seasons Hotel Baltimore is the Course venue. If you have registered for a Cadaver Lab Pre-Course, we will provide roundtrip bus transportation from this hotel; departure details can be found in the most current Tibia and Foot Cadaver Lab syllabus or the Pediatric Hip/Pelvis/Femur Cadaver Lab syllabus (please note: each syllabus is a fluid document and changes may be made without notice).

Parking

For those driving to the Four Seasons Hotel daily, we have arranged for a discounted daytime valet parking rate of $15/day. This rate does not apply to self-parking during the day, nor to overnight parking (currently $46 for valet and $25 for self-parking per night).

Getting to Our Course

There is limited shuttle service available. The least expensive method of travel between any of the Baltimore-Washington airports (BWI, DCA, IAD) is via Uber or Lyft.

*actual pricing may vary based on time of day

Attire

Business casual for meeting and resort casual for reception.

American Disabilities Act

If you require special accommodations to attend or participate, please submit a notification of your needs to mbacon@lifebridgehealth.org at least 30 days in advance of your arrival.

Disclosure Policy

It is the policy of Sinai Hospital of Baltimore, a LifeBridge Health Center, to comply with the Accreditation Council for Continuing Medical Education (ACCME) Standards for Integrity and Independence in Accredited Continuing Education. All faculty participating in sponsored or jointly sponsored programs by Sinai Hospital of Baltimore are required to disclose to the program audience any real or apparent conflict(s) of interest related to the content of their presentation(s). In accordance with the ACCME requirements on disclosure information, relationships of presenters with commercial interests (if any) will be included in materials distributed at the time of the Course.

What Participants Have Said About the 2022 Course

"Brilliant."

"I love this course and will definitely come again… I learn every year."

"This was a great opportunity to network and learn from many esteemed colleagues. The food was excellent, as was the venue and all of the staff starting from the registration desk all through to the last waiter."

"Excellent course."

"Dr. Standard's lecture on Tibia Oblique Plane was exceptional. Thought-provoking 'ah-ha' moment for me. His explanation with the bone model and hinge placement was spot on."

"Fantastic faculty!"

"Learned a lot from very knowledgeable faculty. The lab facility was excellent."

"Everything was perfect."

"This course molds your thinking and analyzing structure in the most positive way possible."

2022 Course Sponsors

The 2022 Course was made possible through educational grant and in-kind support from:

Course Materials Order Form

Click here to download an order form if you are interested in purchasing DVDs, USBs, or other course materials. To purchase our textbooks, please visit Amazon.com by clicking on the links below:

For your information: a copy of the latest edition of The Art of Limb Alignment is included in the 3-day Course registration fee.

If you are not using your own personal credit card to charge the fees, please complete and return the Third Party Credit Card Authorization Form so that we have a valid signature on file.

Contact Information

Please contact Madeline Bacon with any questions about the Baltimore Limb Deformity Course.

Phone: +1.410.601.9798
Fax: +1.410.601.0585
E-mail: mbacon@lifebridgehealth.org

Mailing Address:
Madeline Bacon
Baltimore Limb Deformity Course
Rubin Institute for Advanced Orthopedics
Sinai Hospital of Baltimore
2401 West Belvedere Avenue
Baltimore, Maryland 21215, USA