Podiatric Residency Program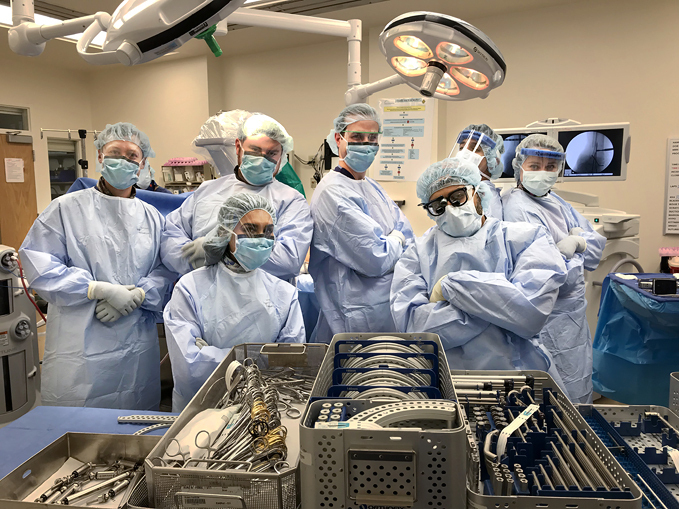 The Rubin Institute for Advanced Orthopedics (RIAO) of Sinai Hospital of Baltimore is a proud partner and co-sponsor with the VA Maryland Health Care System of the Podiatric Medicine and Surgery Residency (PMSR) program with the added credential in Reconstructive Rearfoot/Ankle Surgery (RRA). The 36-month PMSR-RRA program's emphasis is on the complete care of patients, and it is dedicated to providing high quality, compassionate and accessible care and service to Maryland veterans, the citizens of Maryland and members of the Department of Defense. The residency offers training in the full scope of podiatric medicine and surgery. Residents spend time in both the clinic and the operating room, developing skills for pre-operative planning and peri-operative management of patients. Surgical skills are developed and matured through a "hands-on" teaching model in the operating room under the supervision of the attending surgeons.
During the first year, each resident spends three months at the RIAO focusing on pediatric and adult orthopedics and rotates through vascular surgery, general surgery, internal medicine and Washington DC podiatry. During the second and third years, each resident rotates through the RIAO, the University of Maryland, the Walter Reed National Medical Center and both the Baltimore and Washington DC VA Medical Centers, where s/he is exposed to a variety of musculoskeletal pathology. The medical centers and outpatient clinics all work together to form a comprehensive residency training program.
The program emphasizes hands-on training. There is also a special focus on deformity planning and correction, diabetic limb salvage/preservation and reconstructive orthopedic and plastic lower extremity surgery. In addition to weekly teaching lectures, journal clubs, and board preparation sessions, there are monthly cadaveric dissection labs.
The facilities provide state of the art electronic medical record systems as well as digital and 3D Standing Foot Computed Tomography imaging and printing. There are abundant research opportunities available, complemented by a full-time research team and professional illustrator at the RIAO. The residency program gives the opportunity to collaborate with faculty to publish research in a peer-reviewed journal. Residents are an integral part of the research process and are actively involved in performing a literature review on the research topic, designing the study, generating hypotheses, collecting data and writing the research manuscript.
The residency program is approved by the Council on Podiatric Medical Education (CPME) as a Podiatric Medicine and Surgery Residency with added credential in Reconstructive Rearfoot/Ankle. Satisfactory completion of the program offers the resident opportunities for board certification by the American Board of Foot and Ankle Surgery (ABFAS) and the American Board of Podiatric Medicine (ABPM).
Program Leadership
Dr. Hummira Abawi
Program Director
Dr. Noman Siddiqui
Program Assistant Director; Division Chief of Podiatry, Northwest Hospital; Foot and Ankle Deformity Correction Surgeon, International Center for Limb Lengthening (ICLL)
Curriculum and Faculty
Year One

Rubin Institute for Advanced Orthopedics

Pediatric deformity management and correction:

Prosthetic Joint Infections:

Vascular Surgery

General Surgery

Pathology

Internal Medicine

General Podiatry, DC VA

Diabetic limb salvage, elective forefoot and rearfoot surgery:

Dr. Janette Thompson, Chief of Podiatry, D.C. VA

Dr. Michael Egertsen

Dr. Tanya Judd

Dr. Toni Lam

Podiatric Medicine and Surgery, Walter Reed / University of Maryland Medical System

Year Two

Rubin Institute for Advanced Orthopedics

Adult and pediatric foot and ankle surgery, orthoplastics, deformity correction, diabetic limb preservation:

University of Maryland

Adult and pediatric deformity correction and limb preservation:

Dr. Hummira Abawi

Dr. Emily Durrance

Dr. Jacob Wynes

Baltimore VA Podiatry

Diabetic limb salvage, elective forefoot and rearfoot surgery:

Dr. David Gottlieb

Dr. Kiana Trent

Infectious Disease

Emergency Medicine

Year Three

Rubin Institute for Advanced Orthopedics

University of Maryland

Baltimore VA Podiatry

DC VA Podiatry

Additional Faculty

Dr. John Aker

Dr. Tracy Bramble

Dr. Monique Gourdine-Shaw

Dr. Richard Noble

Dr. Andrew Puckett
2023-2024 Residents
Postgraduate Year 3

Dr. Asma Jappar

Dr. Shehryar Raja

Postgraduate Year 2

Dr. Gregory Aubertin

Dr. Nabih Masri

Dr. Hiba Mohiuddin

Postgraduate Year 1

Dr. Zanib Cheema

Dr. Madeira J. Curry

Dr. Yehonadav Kadosh

Dr. Nichole C. Mgboji
2022-2023 Alumni
Dr. Fritz-Andre Duterlien

Dr. Yumna Siddiqui

Dr. Ian Vandergulik

Dr. Stephanie Wu
2021-2022 Alumni
Dr. Cassandre Charles

Dr. Bilal Khan

Dr. Sheryse Mobley

Dr. Jones Thomas
2020-2021 Alumni
Dr. Anam Ali

Dr. Vineela Ayyagari

Dr. Rene Juridico

Dr. Andrew Wilson
2019-2020 Alumni
Dr. Emily Chau

Dr. Sara Mahmood

Dr. Laura Michetti

Dr. John Miller
2018-2019 Alumni
Dr. Jack Guan

Dr. Brittany Mayer

Dr. Ali Mumtaz

Dr. Jake Powers
2017-2018 Alumni
Dr. Areeba Ahmed

Dr. David Chuang

Dr. Jessica Fink

Dr. Amanda Walsh
Apply to the Baltimore VA/Sinai (RIAO) Program
The program participates in the Central Application Service for Podiatric Residencies (CASPR) – a national, centralized application process and computerized matching service for the placement of podiatric medical school graduates into podiatric medical and surgical residencies. It is listed as "DVA-Maryland Health Care System." For more information, please contact Program Director Hummira Abawi, DPM, at: habawi@som.umaryland.edu.