Baltimore Limb Deformity Course
Online registration is now open for the three-day Baltimore Limb Deformity Course, three pre-courses, and one post-course. You can also register by printing out the registration form and sending the completed form to the fax number or to the mailing address that is listed on the form. If you are not using your own personal credit card to charge the fees, please complete and return the Third Party Credit Card Authorization Form so that we have a valid signature on file.
The Course brochure provides useful information about the courses, venue, and registration.
The Corporate Support and Exhibitor Opportunities brochure contains information for companies and organizations who are interested in the 2020 Course.
COVID-19 UPDATE
To date, we are proceeding with the 2020 Baltimore Limb Deformity Courses as planned. We will continue to monitor this ever-changing situation and will take our cues from the U.S. Centers for Disease Control and Prevention, the state of Maryland, LifeBridge Health/Sinai Hospital of Baltimore, and the Four Seasons Hotel Baltimore.
Please note that we have made the decision to amend our Cancellation Policy to:
---
A full refund of your paid registration fees will be extended for written cancellations postmarked on or before May 30, 2020. With respect to written cancellations made on or after June 1st, we will send an email to all paid registrants in mid-May with our decision to extend this penalty-free cancellation policy into June and beyond. An update will also be posted online.
---
Should you have any questions or concerns, please address them to Madeline Bacon, mbacon@lifebridgehealth.org. Thank you, and stay well during these challenging times.
Please see below for more information about our 2020 courses, course venue, travel options, and contact information.
30th Annual Baltimore Limb Deformity Course
Dates: Thursday, August 27, through Saturday, August 29, 2020
Chair: John Herzenberg, MD
Directors: Michael Assayag, MD, Christopher Bibbo, MD, Janet Conway, MD, Philip McClure, MD, Noman Siddiqui, DPM, and Shawn Standard, MD
Registration Fee: $1,275–$1,695

Basic and advanced limb reconstruction concepts:

Limb alignment

Limb lengthening

Corrective osteotomies

Internal and external fixation

Intended for orthopedic surgeons, podiatrists, and allied health professionals who treat lower extremity deformities. No prior experience required.

The 2019 Course was attended by more than 360 attendees from 36 foreign countries and 33 U.S. states.

Highlights of the 2020 course will include:

Hands-on sawbone labs (internal and external fixation)

Interactive adult, pediatric, and foot participant case presentations

Internationally renowned faculty

Option to choose a lab group that focuses on adult orthopedics, pediatric orthopedics, or foot/ankle applications (group assignments based on early registration)

Option to choose break-out sessions on adult, pediatric, and foot/ankle topics

Innovative apps:

Multiplier: This free app predicts values at maturity (upper and lower limb length discrepancy, bone length, lower extremity length, height, and epiphysiodesis timing)
Bone Ninja: This iPad app teaching tool was developed by Drs. Standard and Herzenberg at the International Center for Limb Lengthening, Sinai Hospital of Baltimore. The Bone Ninja is designed to help surgeons analyze deformities. Note: Please bring your iPad. If you do not own an iPad, you will be able to rent one for three days (advanced reservation required). All registrants of the three-day Baltimore Limb Deformity Course will receive a registration fee discount that they can apply to the purchase of the Bone Ninja app.
Pre-Course: Cadaver Lab: To the Tibia – and Below!
Limited Registration
Date: Wednesday, August 26, 2020
Course Times: 7:00 a.m. – 5:00 p.m.
Director: Noman Siddiqui, DPM
Registration Fee: $1,050
Syllabus
Deformity correction applications for the foot and ankle

Bony and soft-tissue procedures, including reverse sural, reverse peroneus brevis, and medial plantar artery flaps

Percutaneous osteotomies (Gigli saw): proximal tibia, distal tibia, and midfoot

Baumann and Vulpius procedures for gastrocnemius-soleus recession

Percutaneous anterior compartment fasciotomy

Peroneal nerve and tarsal tunnel decompressions

Posterior tibial tendon transfer

Medial approach to medial column arthrodesis

Application of circular external fixation
Pre-Course: Cadaver Lab: Complex Pediatric Hip/Pelvis Surgery in Perthes Disease
Full, but accepting names for wait list
Date: Wednesday, August 26, 2020
Course Times: 7:30 a.m. – 6:30 p.m.
Director: Shawn Standard, MD
Registration Fee: $1,375
Syllabus
Dr. Standard will lead a small group of participants through lectures and hands-on labs that will focus on advanced surgical techniques for treating acute Legg-Calvé-Perthes disease as well as residual hip deformities from Perthes disease.

The didactic session will provide current knowledge about Perthes disease from a basic science point of view to the latest operative treatments for this problematic condition. A practical approach to Perthes disease will also be discussed.

The afternoon will be spent performing complex lower limb surgical techniques on cadaveric specimens and bone models. Participants will use fluoroscopic and surgical equipment throughout the hands-on cadaver and bone model portions of the lab.

The hands-on surgical techniques will include:

Surgical hip dislocation with femoral head reduction osteotomy

External fixation (hip distraction technique)

Periacetabular osteotomy

Morscher osteotomy

Proximal femoral varus osteotomy
Pre-Course: Medial Compartment Osteoarthritis: Options and Outcomes
Limited Registration
Date: Wednesday, August 26, 2020
Course Times: 7:30 a.m. – 6:00 p.m.
Directors: Janet Conway, MD, Craig Bennett, MD, and James Nace, DO
Registration Fee: $425–$525
Syllabus
Knee osteoarthritis in Western populations occurs most often in the medial compartment and at a rate five to ten times higher than osteoarthritis in the lateral compartment.

This course will show how to evaluate the patient who has medial compartment osteoarthritis (MCOA) and decide which methods offer the best outcomes in each situation.

The morning session will include lectures and discussions of the indications, techniques, complications, and outcomes for high tibial osteotomy and unicompartmental knee arthroplasty.

Time will be allotted for discussion of hot topics as well as challenging cases.

Afternoon sawbone labs will help participants learn the skills needed to successfully perform high tibial osteotomy and unicompartmental knee arthroplasty.
Post-Course: Art and Science of Distraction Osteogenesis
Limited Registration
Date: Sunday, August 30, 2020
Course Times: 7:30 a.m. – 4:30 p.m.
Chair: Philip McClure, MD
Directors: John Herzenberg, MD, and Shawn Standard, MD
Registration Fee: $425–$525
Syllabus
Participants will learn how to design and build stable external fixators, including ring considerations, pin factors, and wire factors.

Two hands-on sawbone labs will allow participants to build stable tibial frames: one using only wires and one using only half-pins.

The biology of fracture healing and distraction osteogenesis will be presented as well as basic histology for bone pathology.

Experts in the field will present different approaches for optimizing the regenerate, including biomechanical, biological, and surgical strategies.
Hotel Information
The course venue is the Four Seasons Hotel (200 International Drive) in the heart of Baltimore's Inner Harbor. The chic hotel is located 20 minutes from Baltimore-Washington International Airport (BWI) and 90 minutes from Washington Dulles International Airport (IAD). The discounted per-room fee for course attendees, supporters, and exhibitors is $215 per night (plus tax). The room rate includes complimentary basic guestroom Internet connectivity. It is highly recommended that you make your reservations early. The discounted rate is offered on a space-available basis through Tuesday, August 4, 2020 (5 p.m. Eastern Standard Time).
To make a reservation:
Visit the Four Seasons Hotel website (www.FourSeasons.com/Baltimore)
Enter Check-In and Check-Out dates
Update number of Adults and Children
Add Promo "0820LDC" (general) or "0820DCC" (industry)
Click "Check Rates"
-or-
Call the hotel directly (+1.410.576.5800)
Ask for in-house reservations
Request the "Deformity Course Corporate" rate
Parking
For those driving to the Four Seasons Hotel daily, we have arranged for a discounted daytime valet parking rate of $10/day. This rate does not apply to self-parking during the day or to overnight parking (currently $40 for valet and $32 for self-parking per night).
Getting to our Course
There is limited shuttle service available. The least expensive method of travel between any of the Baltimore-Washington airports (BWI, DCA, IAD) is via Uber or Lyft.
*actual pricing may vary based on time of day
Course Materials Order Form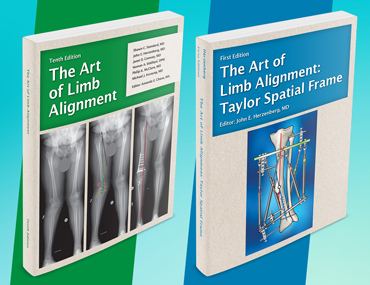 Click here to download an order form if you are interested in purchasing DVDs, USBs, or other course materials. To purchase our textbooks, please visit Amazon.com by clicking on the links below:
Contact Information
Please contact Madeline Bacon with any questions about the Baltimore Limb Deformity Course.
Phone: +1.410.601.9798
Fax: +1.410.601.0585
E-mail: mbacon@lifebridgehealth.org
Mailing Address:
Madeline Bacon
Baltimore Limb Deformity Course
Rubin Institute for Advanced Orthopedics
Sinai Hospital of Baltimore
2401 West Belvedere Avenue
Baltimore, Maryland 21215, USA
American Disabilities Act
If you require special accommodations to attend or to participate, please fax (1.410.601.0585) notification of your needs at least 30 days in advance of your arrival.
Disclosure Policy
It is the policy of Sinai Hospital of Baltimore, a LifeBridge Health Center, to comply with the Accreditation Council for Continuing Medical Education (ACCME) Standards for Commercial Support of Continuing Medical Education. All faculty participating in sponsored or jointly sponsored programs by Sinai Hospital of Baltimore are required to disclose to the program audience any real or apparent conflict(s) of interest related to the content of their presentation(s). In accordance with the ACCME requirements on disclosure information, relationships of presenters with commercial interests (if any) will be included in materials distributed at the time of the Course.
What Participants Are Saying About the 2019 Course
"I wanted to express my complete satisfaction and enjoyment regarding my attendance at this year's Baltimore Limb Deformity Course. I came back to practice with far greater knowledge, and I appreciated all of the staff and lecturers during this course. I was so duly impressed that I consider your course to be fundamental in the education of our residents similar to AO and arthroscopy. The wealth of knowledge, particularly from a surgical biomechanics aspect, is unparalleled and not seen offered within our profession. I am requiring all completing first years to attend, and the timing of the program could not be better than August."

"This course has been phenomenal!!! Recommend it for everyone interested—would love to come back."

"Your course is hands down the best one I go to (I even brought a resident of mine over this year)."
"Thank you for a great course. Incredibly informative and I feel fortunate to learn from the best in the WORLD!"

"Thank you very much for this amazing course. It added very detailed and unique concepts to my deformity correction knowledge. I will definitely come to this course again."

"Greatly enjoyed the course, and learning from this wonderful group of experts that only Dr. Herzenberg would be able to attract!"
"I would recommend the course to everyone who encounters these limb deformities in practice."

"I think the course is always excellent and always working to make itself better even by fine-tuning little details. I also appreciate the efficient use of time and the concentration of material that fits in the three days of the course. Also good mix of lectures, workshop exercises and labs to keep attendees interested and engaged."

"I always enjoy coming to the course and exchanging information with Heroes in the field. I look forward to next year."
"Awesome experience, wonderful learning, wish to come again and again. Love you Sinai Hospital and Baltimore."

"Highly recommend this pre-course. Best cadaver lab I've been to. Great faculty/attendee ratio."

"The constant improvements in the way the material is presented always impresses me."
2019 Course Sponsors
We would like to thank these organizations for their support of the 2019 Baltimore Limb Deformity Course: