Chase
Ankle Deformity, Ollier Disease Michigan Dr. Herzenberg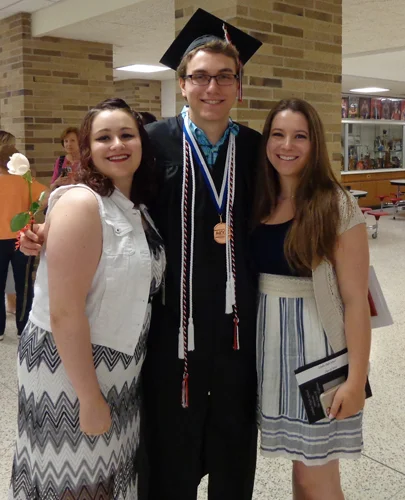 Chase has Ollier disease which causes benign growths of cartilage that develop within the bones. In Chase's case, these growths caused a leg length discrepancy and an ankle deformity. Over his childhood, he had several surgeries to address the fact that as he grew, his right leg was not growing as much as the left one. His mom, Julie, emailed us to share that Chase had graduated high school with honors and an award for musical excellence for his participation in band. He loved playing percussions, and Julie credits the International Center for Limb Lengthening for making it possible for Chase to participate in marching band. He excelled in it, earning a varsity letter and a third place medal at the Michigan state finals.
She writes about Chase's graduation: "As he walked across the stage without so much as a limp, my heart was filled with pride as well as thankfulness for Dr. Herzenberg. Chase starts college in the fall and has a bright future ahead of him—a future in which he is able to walk without a leg brace or use of a wheelchair. We owe that miracle to Dr. Herzenberg and his staff at Sinai Hospital!"
While Dr. Herzenberg has retired from providing patient care, Dr. Philip McClure and Dr. Shawn Standard are available to treat these conditions.