Bridget
Bowlegs, Rickets Maryland Dr. Herzenberg, Dr. McClure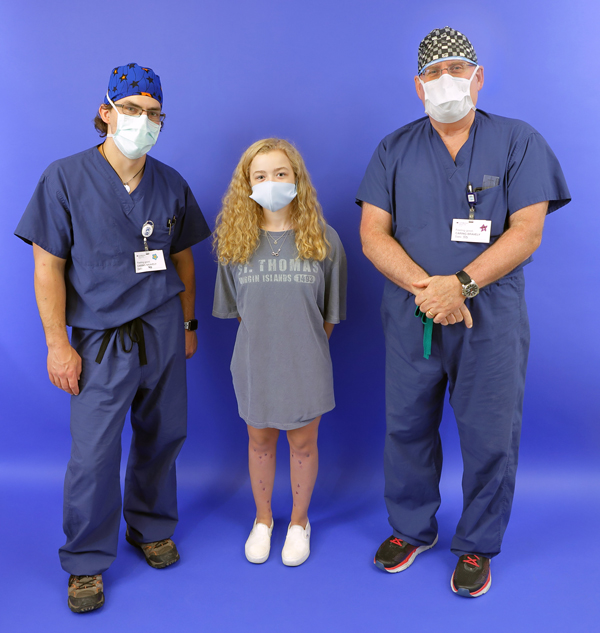 Bridget has a rare form of rickets called Vitamin D-resistant or hypophosphatemic rickets. It is inherited and not due to not eating enough foods with Vitamin D or lack of sun exposure. The disease caused Bridget's legs to bow, curving outward even when her ankles were put together. Bridget shares, "I was very insecure about how my legs looked and got pain from daily activities like walking and running. I went through surgery before the Rubin Institute that didn't work and was scared my legs would never be 'normal'." She also was at high risk of developing knee arthritis in the future.
Right before elective surgeries were suspended due to COVID-19, Dr. Herzenberg and Dr. McClure applied external fixators to each of her legs. By making small adjustments to the frames each day, Bridget gradually corrected the bowing. She was a quick healer, and her frames could be removed just about three and a half months later.
As you can see in these after treatment photos, Bridget's bowing is now corrected, and her hips, knees and ankles all fall on a straight line. Bridget concludes, "I am now more confident in my legs and how they look. I am also more comfortable performing activities like running and cheering and won't face pain in the future."
"Both my doctors were very compassionate and made sure I was comfortable and knew everything about the procedure." When asked what she would tell another patient considering treatment, she concludes, "It's completely worth it. I had the procedure on both legs and was able to walk by myself with the [frames] on after 2 months, and the pain wasn't bad."
While Dr. Herzenberg has retired from providing patient care, Dr. Philip McClure and Dr. Shawn Standard are available to treat these conditions.