Anicka
Club Hand Czech Republic Dr. Standard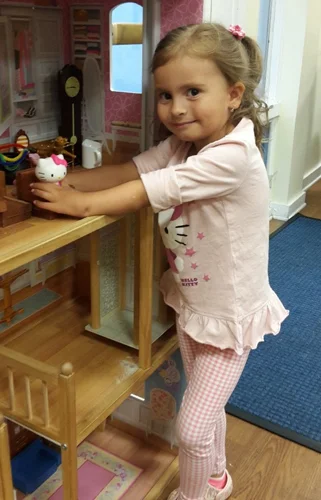 Anicka, also affectionately known as Annie, is a patient with radial club hand who came to the International Center for Limb Lengthening from the Czech Republic. When her mother, Helena, first discovered her daughter had radial club hand, she asked, "Why my child?" "A friend said, 'Don't ask why, but how.' That started our journey of how to get what is best for our daughter," Helena shared.
It has been a long journey. In their country, only one doctor treats radial club hand, and he only performs centralization surgery. They were considering this for Anicka, but then joined a Facebook group for parents of children with radial club hand and learned about the benefits of ulnarization surgery—mainly less recurrence—and they started to explore that option. Through the Facebook group, she found Dr. Standard, and she and her husband Honza participated in one of his free weekly online chats. "The chat with Dr. Standard was very helpful. He spent an hour with us in the first chat. It was a good start for us to learn more about the procedure and ask many questions. We participated in four or five chats before we came to Baltimore. We appreciate Dr. Standard's willingness to spend his private time from his family with patients and patients' parents. Nobody in our country would do this in their free time."
After working for months to get insurance coverage and raise funds, the family made the trip from the Czech Republic to the Rubin Institute for treatment for six months. Dr. Standard performed ulnarization surgery to reconstruct Anicka's left hand as she was lacking a radius bone—one of the long bones in the forearm– and her thumb was underdeveloped. Prior to the surgery, Anicka's hand and wrist were angled towards the thumb side of her forearm, making that arm shorter than the other. After the six-month period of treatment and physical therapy, Anicka demonstrated how successful her ulnarization surgery was by using her left hand to perform a wide variety of tasks.
Before Anicka's surgery her family visited with another family who went through treatment at the ICLL and found it very reassuring. Anicka's family has now provided that same support for other new families coming to the ICLL. Helena and Honza have even started a nonprofit organization and website in Czech so other families in their country would have more resources on radial clubhand than they found. Helena explains, "To share the whole experience—not just the surgeries—is very helpful and supportive. We must help each other," Helena says.
She continues, "For other parents, don't give up. There may be many obstacles but the help from RIAO (Rubin Institute for Advanced Orthopedics) is really great. Everyone here helps with everything—from documents, through surgery when Marilyn kept coming to update us, to the pediatric unit, and physical therapy. We are very satisfied and grateful for everything, and we don't take it for granted. It is not common in our country to have this level of support."