Zuri
Congenital Pseudarthrosis of the Tibia Maryland Dr. Herzenberg, Dr. McClure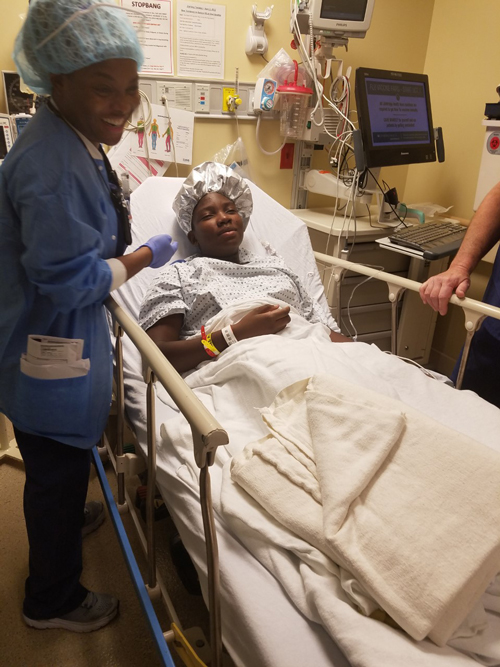 Zuri came to the ICLL after undergoing treatment for congenital pseudarthrosis of the tibia (CPT) and fibula at another hospital. He had worn an external fixator for nearly a year, but it did not help Zuri's broken tibia bone heal. It unfortunately caused him a great deal of pain, and Zuri understandably lost confidence in doctors being able to help him and wanted nothing to do with another external fixator. In the past, the ICLL had always used an internal rod and an external fixator to secure the bone to treat CPT, but Dr. Herzenberg and Dr. McClure used their expertise to devise an alternative for Zuri. They used an internal rod with a plate instead of a fixator, and the treatment successfully healed Zuri's bone.
His mom, Tamara, shares, "My son is now able to walk without a walker which he has not been able to do for years. He was able to fully participate in gym in his first year of high school–including running…. He was able to try roller skating for the first time at a birthday party… which he has never been able to try before.
I am so grateful to Dr. Herzenberg and Dr. McClure for helping us through this process and for being able to correct his nonunion of the tibia-fibula without the external fixator." Zuri may need surgery in the future to address his limb length discrepancy as he grows. "Given the success of the last surgery—and Zuri's overall happiness with the surgery—I think he will not be as hesitant if we need to do surgery again," Tamara adds.
Zuri agrees: "I'll admit I was very hesitant and skeptical at first, but I can now say they are some of the best doctors I've ever had, and I hope our journey can continue to improve and grow over time."
While Dr. Herzenberg has retired from providing patient care, Dr. Philip McClure and Dr. Shawn Standard are available to treat this condition.