Thomas
Fracture, Limb Length Discrepancy, Malunion Pennsylvania Dr. Herzenberg, Dr. McClure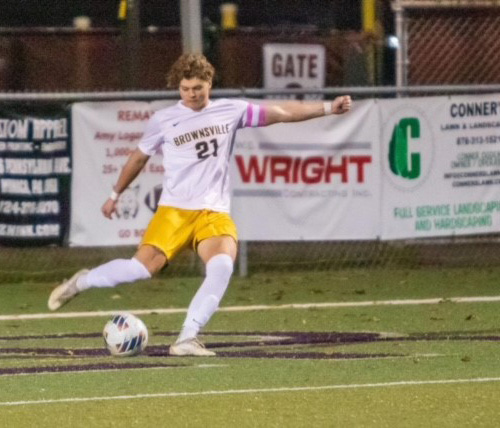 Thomas fractured his tibia (shin bone) playing soccer, and he was referred to the ICLL 3 years later when he was having issues due to a malunion—meaning his bone was improperly aligned. He also had a limb length discrepancy causing him hip pain. His family was worried he might not be able to play soccer again. Dr. Herzenberg and Dr. McClure performed a tibial osteotomy and then gradually corrected his bone deformity while lengthening the tibia at the same time using an external fixator.
Several months later, a hardware issue complicated Thomas's treatment, but Dr. McClure changed course and removed the external fixator and implanted a bridge plate. Now Thomas's leg length is corrected; his hips are in alignment; and he is pain-free. After his treatment and a lot of hard work in physical therapy, Thomas was not only able to play soccer his senior year, but he played at such a high level that he received several awards and was recruited to play soccer at Tiffin University in Ohio.
When asked about their experience with the ICLL, his mother Kim shared, "We have had the BEST experiences every time we visited for an appointment, surgery, or communication due to our distance away from Baltimore. Dr. McClure has been truly amazing. He knew and understood how important it was for Thomas to be able to play soccer and timing was important. Every mom panic, hardware malfunction, pin infection, Doc was very responsive and helpful. Marilyn [Richardson, Pediatric Liaison] has been a gem and wonderful with Thomas, Dad, and I…. We are so thankful to everyone who had a part in Thomas's journey. They have saved our son mentally and physically and for that we will be forever grateful."
When asked what she would share with other parents considering coming to the ICLL for their child's treatment, she replied, "Have no doubts. Gather your information, ask the questions, and have the faith they can help your child as they did ours."
While Dr. Herzenberg has retired from providing patient care, Dr. Philip McClure and Dr. Shawn Standard are available to treat these conditions.