Kahlil
Infection, Necrotizing Fasciitis North Carolina Dr. Conway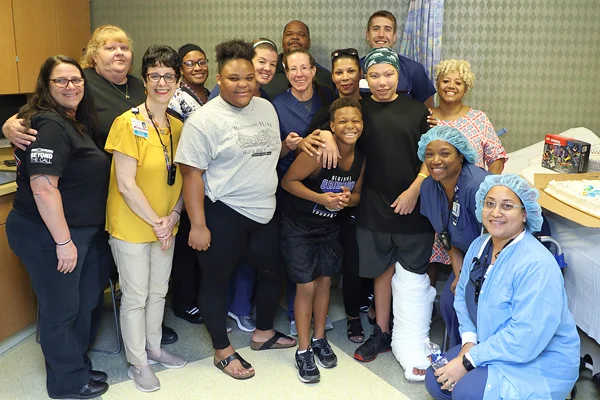 Kahlil is a teenager who was just visiting Baltimore from North Carolina with his family when he contracted necrotizing fasciitis, otherwise known as flesh-eating bacteria. This type of infection is caused by a strain of Strep bacteria that can enter the body through minor cuts, abrasions or insect bites. The infection spreads quickly and aggressively kills muscle, skin and fat tissue.
Dr. Conway's treatment—which included over ten surgeries over the course of one summer—saved not only Kahlil's leg, but also his life. Several media outlets reported on Kahlil's condition and two Baltimore television news stations interviewed Dr. Conway about flesh-eating bacteria.
Dr. Conway shared that to avoid the infection, if you have an open cut, avoid swimming in untreated water. If you develop a cut while swimming in untreated water, make sure to wash the wound quickly and carefully. If you notice a painful cut, bug bite or abrasion that is red and painful with a spreading rash (sometimes with blistering and bruising) coupled with a high fever, go to your nearest emergency room right away. These infections are life-threatening and quick diagnosis and treatment are critical.
After spending over a month at the Herman & Walter Children's Hospital at Sinai and a few weeks of rehabilitation at the Mount Washington Pediatric Hospital, Kahlil was finally well enough to return home. To celebrate the occasion, Dr. Conway threw a party for Kahlil and his family and his treatment team from the Children's Hospital and the Rubin Institute for Advanced Orthopedics.
Here are media stories sharing Kahlil's progress and interviewing Dr. Conway about necrotizing fasciitis: