Elaine
Cellulitis, Infection, Necrotizing Fasciitis Maryland Dr. Conway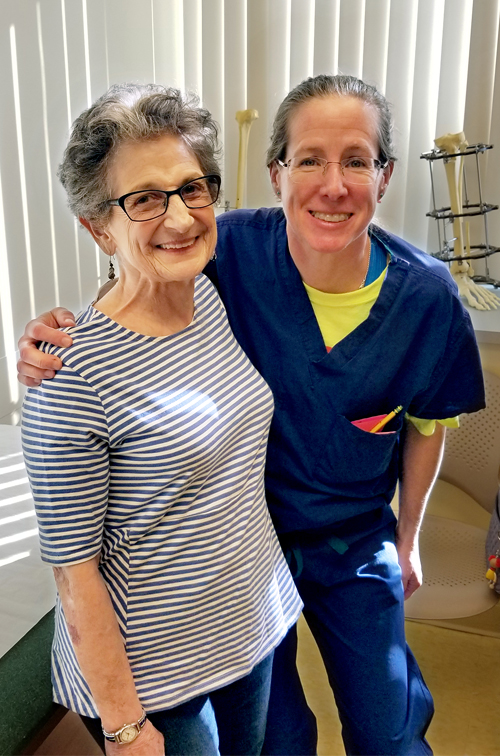 At a follow-up appointment, Elaine shared, "Dr. Conway saved my arm and my life. She is unbelievable. I worship the woman."
Elaine recounted how several years ago, she told her daughter Felice that something wasn't right with her elbow. She saw a doctor the next day and was put right in a hospital. She had necrotizing fasciitis, a flesh-eating bacterial skin infection that spreads quickly, kills the body's soft tissues, and can result in limb loss and death. The aggressive bacteria infected the connective tissue that surrounds muscles, nerves, fat, and blood vessels.
After three surgeries that did not help, an immunologist advised Elaine and her family that she needed more expert care and recommended that she see Dr. Conway at the International Center for Limb Lengthening at Sinai. Over the next four weeks, Dr. Conway ultimately performed 19 surgeries to clean the infected tissue, and Elaine received sophisticated antibiotic and antifungal treatments. After one more bout of infection, treatment, skin grafting and rehabilitation, Elaine was finally healed.
Elaine has developed cellulitis, a bacterial skin infection, twice since her battle with necrotizing fasciitis. Once she sought out care while in North Carolina, but multiple treatments did not work. Elaine then texted a picture of the infection to Dr. Conway. "She said she had a hospital bed open for me. We drove up to see her…. It took her four days, but she cleared the infection," Elaine told us.
Her daughter Felice added, "Three times, no one else has been able to clear the infection, but Dr. Conway did. She is working at a unique level of sophistication."
"She cures people," Elaine concluded.