Avascular Necrosis (AVN) of the Hip
What is avascular necrosis (AVN) of the hip?
Avascular necrosis (AVN) of the hip, also referred to as osteonecrosis or aseptic necrosis, is a condition where the blood supply to the ball of the hip joint (femoral head) is lost, causing the bone to die. Without a blood supply, the bone cells die, and the surrounding bone loses its normal living environment. Although bones appear to be a static frame for the body, the skeletal system is very biologically dynamic and full of ever-changing tissue. Healthy bone requires a continuous blood supply, just like other tissues and organs. Reduction or restriction of blood (also known as ischemia) is more common in certain bones due to the underlying anatomy; such areas include the femoral head, which is more predisposed to avascular necrosis.
Once the bone has died, there is a gradual process of bone breakdown and absorption by the body to repair the area. This causes weakness in the area of the AVN with eventual bony collapse and loss of strength and shape. This can be compared to the settling or collapse of a foundation of a house or building. Once the foundation's stability is lost, then the entire structure can shift, break, collapse and lose the original shape of the structure. After the femoral head or joint has lost its original shape, then the joint does not fit together properly; this is called a loss of joint congruency. This mismatch in joint shape leads to pain, irritation of the joint, loss of motion and function and eventual joint degeneration or arthritis.
What causes avascular necrosis of the hip?
There are many causes of avascular necrosis of the femoral head. The age of the affected person plays a critical role in the typical cause of the avascular necrosis and the prognosis of recovery. Adult hip AVN can be caused by the use of chronic or high dose corticosteroids, alcoholism, sickle cell disease, trauma, work environments that expose the person to extreme barometric pressures, (e.g., Caisson's disease), hyperlipidemia (increased blood lipid / fat levels), Gaucher disease and pancreatitis. However, in young people who have not reached final growth or skeletal maturity, the most common cause of hip AVN is unknown and called Legg-Calve-Perthes disease, which is more commonly referred to as Perthes disease. The typical age group for Perthes disease is between 4-6 years of age. Once a young person reaches an age above 10 years for females and 12 years for males, then AVN of the hips take on an entirely different clinical course and a worse prognosis. In the adolescent age group, the most common causes of AVN are corticosteroids, sickle cell disease, slipped capital femoral epiphysis, and idiopathic (meaning that it occurs spontaneously with cause unknown); it is termed Perthes disease – extreme late onset.
The following is a list of age groups and prognosis from hip AVN with no aggressive treatment:
<5 years of age – good prognosis

5-6 years of age – good prognosis

7-8 years of age – guarded to poor prognosis

>8 years -12 years* – poor prognosis

>13 years* – extremely poor prognosis
(*Female patients enter the extremely poor prognostic age group >10 years.)
Why do younger patients have a better prognosis with hip AVN?
There are several reasons why younger children can experience hip avascular necrosis and heal with minimal long-term problems. First, a small child's hip ball (femoral head) can be 50% cartilage and 50% bone; so, a child relies less on the internal bone structure to maintain the round shape of the head as compared to an adolescent or adult whose femoral head is 90% bone and only 10% cartilage. This also explains why older children have a worse prognosis than very young children. As we grow, the internal bone structure of the hip ball or femoral head becomes larger and becomes the main foundation to maintain the spherical shape.
Secondly, younger children are still growing. If AVN occurs in a younger child, and it results in a femoral head deformity, this can be reversed and improved with growth and maintained hip range of motion. In the environment of continued growth and good hip range of motion, both the hip ball and hip cup (called the acetabulum) change shape to regain a better "fit" or congruency. Older children have less growth potential and therefore are not as able to reverse the hip deformity that can occur with AVN. Adolescents and adults are not afforded any "do overs," so to speak.
Third of all, smaller children generate less force across the hip joint during the AVN process. Imagine a 5-year-old boy jumping off a bed versus a 15-year-old boy jumping off the bed and the differing amounts of force experienced by the hip joint when their feet hit the floor. Size and episodes of high impact and force matter during the healing process of AVN of the hips.
Lastly, the avascular necrosis always heals in younger children. The final shape of the hip joint can be variable, but the femoral head will heal in patients <13 years old for males and <10 years old for females. The same cannot be said for preadolescent and adolescent patients. The femoral head usually mimics that of an adult in these age groups where the femoral head does not heal the avascular necrosis and joint degeneration, and the final outcome is destruction.
What are the other factors that affect the prognosis of hip AVN?
Besides age and gender, the amount of femoral head that is involved and the location of the AVN within the femoral head are also critical prognostic factors in adolescents with hip AVN. The cause or etiology plays a role in prognosis as well. Hip AVN after a slipped capital femoral epiphysis is more difficult to treat than an AVN of the hip caused by corticosteroid use.
What are the symptoms of hip AVN?
Initially, the ischemic event or loss of blood supply to the hip can be painless, or it can cause a brief period of hip irritation. This could be a mild to moderate soreness in the hip, groin or thigh area that causes mild stiffness and a limp. This initial period can resolve with time or with anti-inflammatories. During the next 4-6 months, the hip can be relatively normal with intermittent episodes of mild pain and discomfort. It is this period of time when the "dead" bone is being slowly broken down and absorbed. Patients might undergo plain X-rays that are "normal" or have very subtle findings during this phase. Patients who have an MRI will demonstrate the typical changes of early AVN.
Once a critical amount of the bone is absorbed, the femoral head can collapse leading to immediate and significant pain. Many patients are told they have "broken" their hip during an emergency room visit after initial collapse. This "break" is not similar to a broken forearm or broken leg though. Instead, this "break" is actually the collapse of the internal foundation of the femoral head. The resulting pain can increase and decrease depending on activity level and time. Some patients will have resolution of the pain over a period of rest and the use of crutches. However, without proper treatment, the pain will recur and continue along with degeneration of the joint over time.
How is adolescent AVN of the hip treated?
In young children, the mainstay of treatment for hip AVN is to maintain hip range of motion, decrease high impact activities and control hip inflammation during the natural healing period. However, this does not work for older children or adolescents. A more aggressive and expedited treatment must be used in the adolescent age group. The treatment should be started as soon as possible and before significant femoral head collapse occurs. The treatment consists of a surgical procedure to remove the necrotic or dead bone  (debridement) within the femoral head and replace it with bone graft. This is called a femoral head core decompression with debridement and bone grafting. If the femoral head is significantly collapsed and soft, then this procedure is performed via a surgical hip dislocation where the entire joint can be visualized and examined.
An external fixation device can be used if needed to maintain the femoral head within the cup while eliminating any pressure off of the healing femoral head. Some patients do not require the external fixation. All patients remain non-weightbearing for 2-3 months and then advance with gradual increase in weightbearing for another 1-3 months. The treatment is a lengthy process, but it can provide significant benefit if the hip joint is saved. Unfortunately, most patients are not given an option for hip joint rescue or salvage. The vast majority of surgeons will recommend to proceed with total joint replacement.
Examples of Treatment
Case 1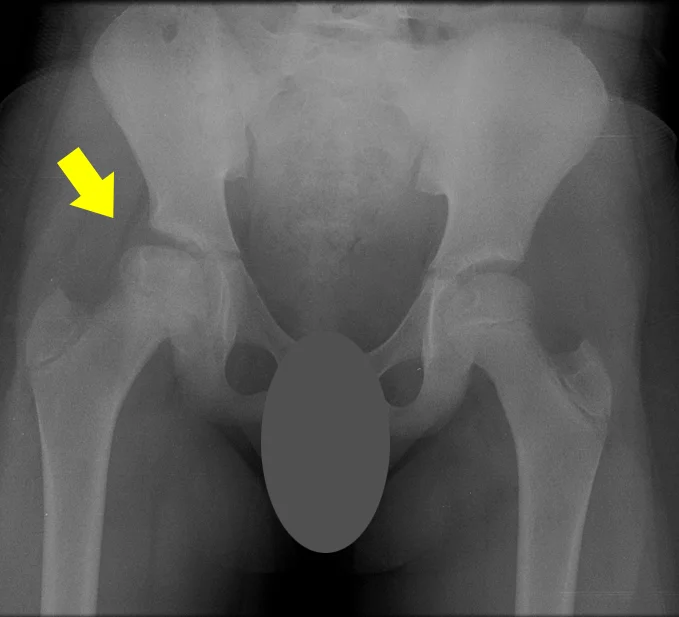 11-year-old female with AVN of right hip from sickle cell disease. Yellow arrow points to central area of necrosis.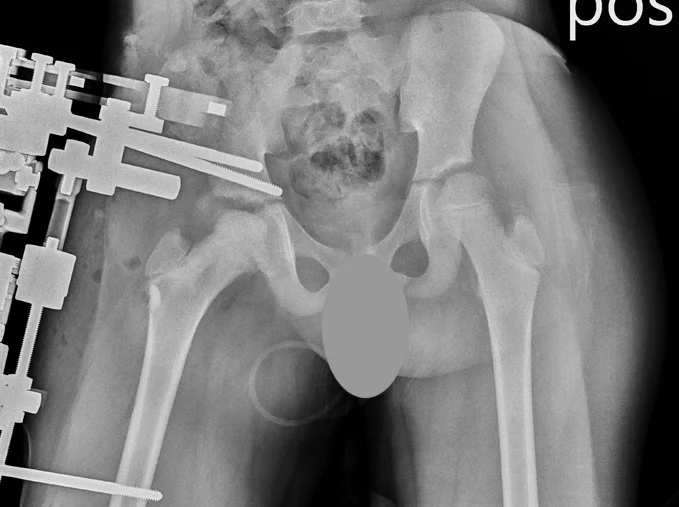 Postoperative X-ray of the right hip being protected by an external fixation device and maintaining no pressure on the round femoral head.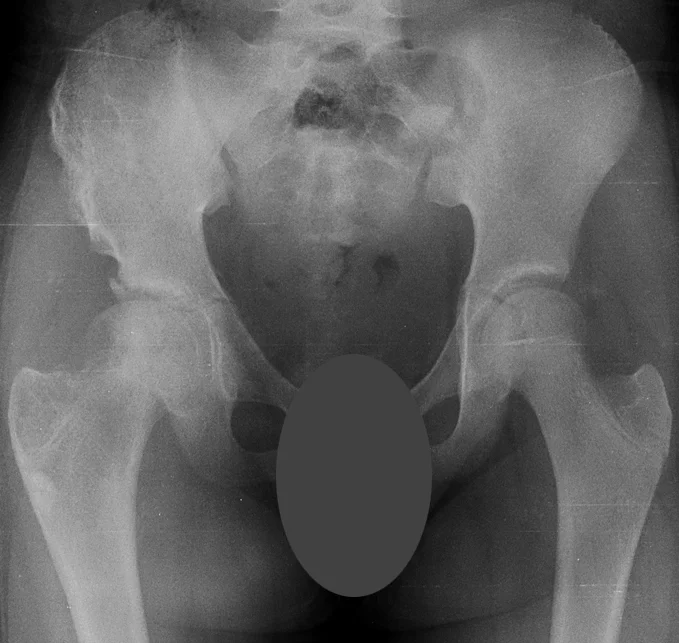 X-ray showing the results at 14 months after the initial treatment with complete healing of the right femoral head, complete resolution of right hip pain and the patient's full return to activity.
Case 2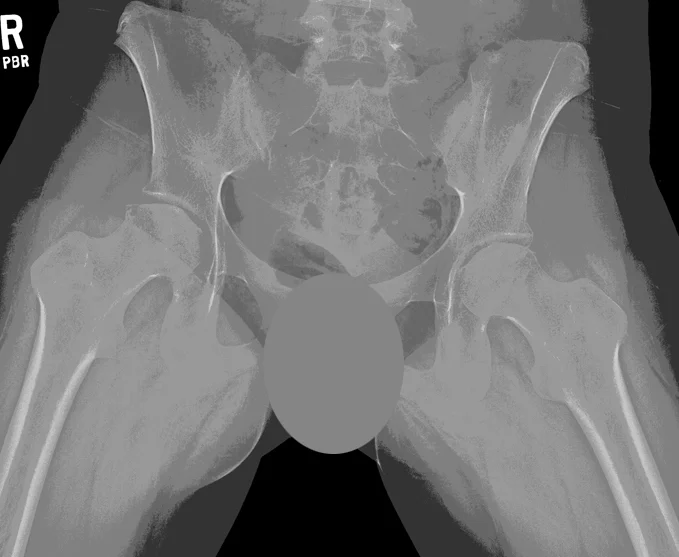 14-year-old female with bilateral hip AVN secondary to corticosteroid treatment for leukemia.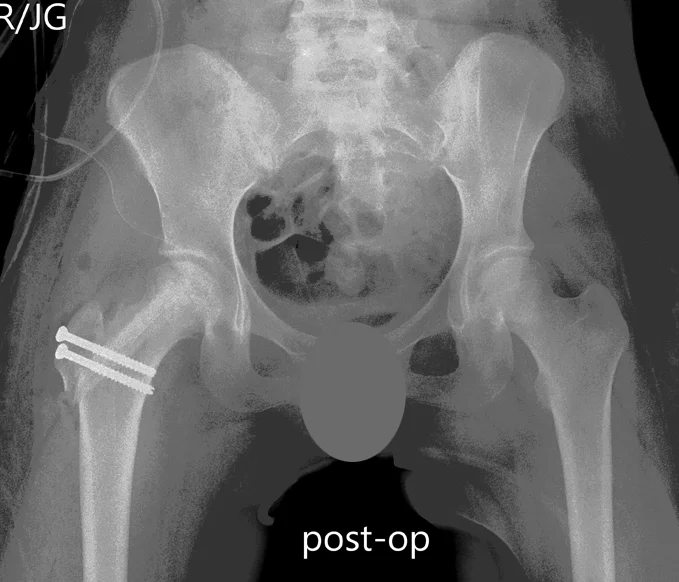 Immediate post-operative X-ray demonstrating appearance of the right hip after open femoral head debridement and bone grafting treatment with no external fixation needed.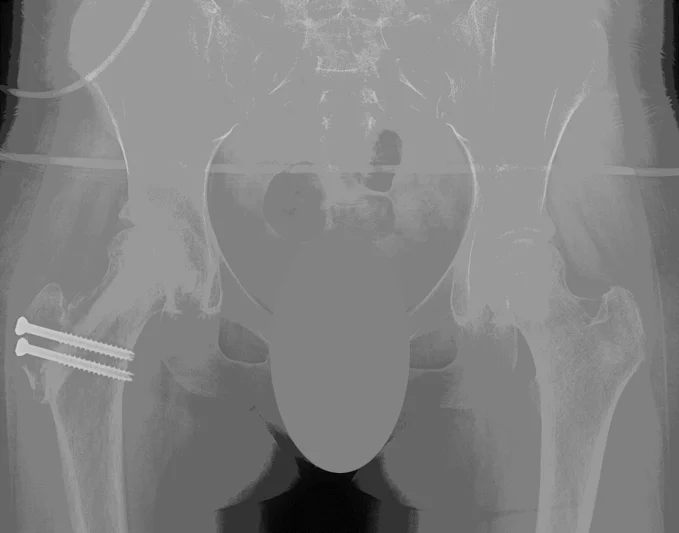 Final healing of right femoral head with resolution of hip pain.
Can a total joint replacement provide a successful treatment for adolescent AVN of the hip?
Yes—the success of total hip replacement is very predictable and will relieve the pain associated with hip AVN in the adolescent; however, the artificial hip is not as durable as the natural hip. There are permanent lifestyle changes that occur with the placement of a total joint along with the future need for additional joint replacement when the original joint replacement wears out. The time frame for repeat joint replacement can be as soon as five years or as much as 25 years. Total hip replacements in adolescents and young adults are excellent for hip joints that have complete degeneration and end-stage arthritis. However, if there is a good chance to salvage the native hip in a young person, this should be attempted to rescue the natural hip and postpone the need for total joint replacement.
Why choose the International Center for Limb Lengthening for treatment of adolescent AVN of the hip?
Treating Perthes disease and avascular necrosis of the hip in adolescents is a complex process. Dr. Standard is world-renowned for his expertise and successful treatment of Perthes disease and adolescent AVN of the hip. Your doctor will take the time to make sure you understand all of the options and then will customize your child's treatment to meet their specific needs. Our patients also benefit from our team-centered approach with world-renowned pediatric orthopedic surgeons, anesthesiologists with extensive experience working with pediatric patients, and specialized physician assistants, nurses and physical therapists.
Doctors who treat avascular necrosis of the hip
†Children and Adolescents/Young Adults Only